Assistive Technology – Smart Home Technology for Living More Independently
February 28, 2018 at 6:00 pm

-

8:00 pm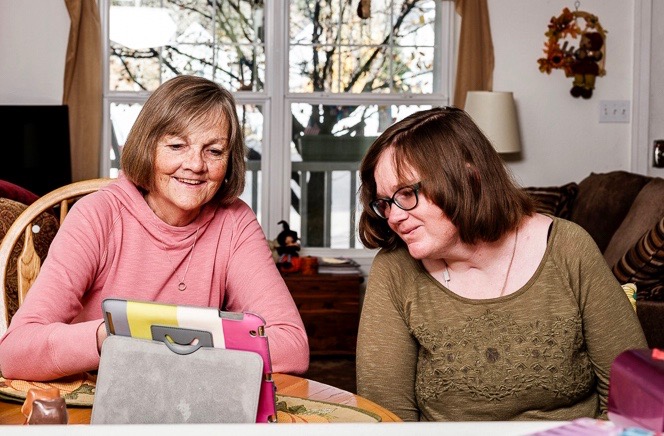 A presentation on how assistive technology can help children and adults with disabilities be more independent throughout their life, including living more independently.  Registration is required to attend (complete registration form below).
Kara and Alice will provide a look at a mainstream system that was set up to support Kara, (who sustained a severe traumatic brain injury) to lead a self-determined life.
This presentation is geared towards:
Individuals with disabilities who are looking for ideas to help them lead more self-determined lives
Family members who support children and adults with disabilities
Objectives:
1. After attending this session attendees will know the cost of and basic requirements necessary to set up a "smart home" and a "smart life" with technology utilizing iPads and Amazon Echo Dot for support.
2. Attendees will leave with increased confidence and competence in use of a "tech team" (iPad and Amazon Echo Dot) to support an independent life.
3. Participants will learn successful strategies to advocate for, educate about, and promote the use of technology and information access for those with intellectual and developmental disabilities.
Presented by:
Alice Brouhard RN is a champion of the use of technology, especially tablet technology, to support people with memory and cognitive challenges. She has worked tirelessly to set up a system that allows her daughter who sustained a serious TBI to live independently.
She speaks statewide and nationally at conferences on the use of high tech and low tech options to promote self-sufficiency. Alice is a founding member of Colorado-based "Families at the Forefront of Technology" and serves on the steering committee for their annual conference.
Kara Brouhard sustained a severe traumatic brain injury at age 5 when she was struck by an out of control skier.
Kara leads a self-determined life in her own house despite many challenges from her TBI. Mainstream technology supports her independence and self-sufficiency. She likes to speak to others and share her success. She is a member of "Families at the Forefront of Technology" and presents at their annual conference. And she loves to show off her "smart home" to others!
Space is limited and light snacks will be served.  Registration is required to attend. Map to location is at bottom of page.  Please note that each person attending, even if in the same group, needs to register.  Childcare and Translation are available upon request.
Assistive Technology Assistance: 
The Arc of Larimer County has received a grant from Comcast to host three workshops about assistive technology for individuals with disabilities and transitioning to independent living as well as to purchase assistive technology that supports individuals with disabilities in independent living.  An application process will be developed and those who attend one of the three workshops will be given preference in the application process. If you are interested in receiving information about the application once it is developed, please check the appropriate box when you register.
Public Transportation: Our office is accessible on Route 12.