Gov. Hickenlooper Signs SB16-077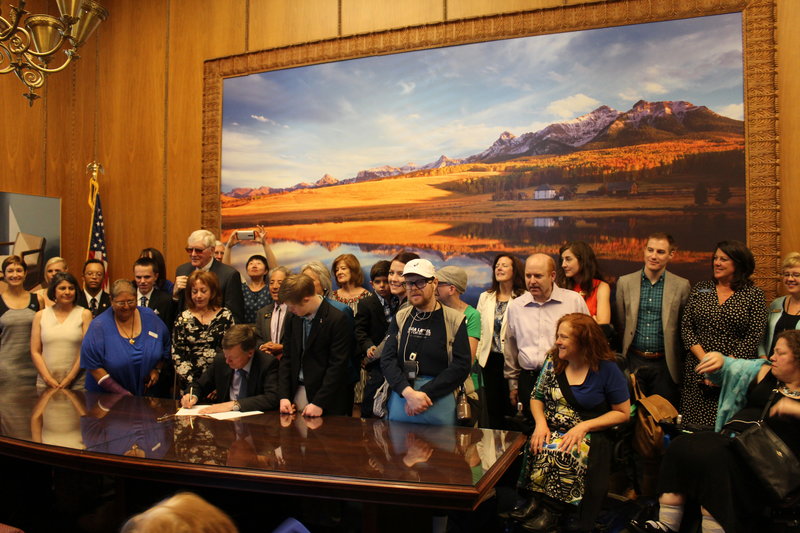 On the morning of June 10th 2016, Governor John Hickenlooper signed bill SB16-077, Employment First for People with Disabilities, into law.  The bill, sponsored by Sen. John Kefalas, Rep. Joann Ginal, and Rep. Dianne Primavera aims to increase the number of individuals with disabilities, including significant disabilities, who are employed in Colorado.
"Being employed is critical to being a part of the community," said Marijo Rymer, Executive Director of The Arc of Colorado.  "However, a variety of barriers can stand between a person with a disability and a job."
About 80% of individuals with disabilities and 85% of individuals with significant disabilities in the State of Colorado are not currently working.   "Colorado has a very low unemployment rate, so increasing the number of individuals with disabilities who are working is achievable."  says Rymer.
At the heart of the bill is the Employment First Advisory Partnership.  Made up of multiple state agencies and various stakeholders, the Partnership will examine the barriers between individuals with disabilities and employment and suggest solutions to these barriers in a strategic plan.  This strategic plan is critical to ensure that a comprehensive approach is taken to expanding employment opportunities for all individuals with disabilities, including individuals with significant disabilities.
Throughout the legislative session, numerous individuals and families shared their story with lawmakers and asked for support of the bill.  "Without these phone calls and emails, many lawmakers just were not aware of how difficult it can be for a person with a disability to find a job," says Marilee Boylan, Executive Director of The Arc of Larimer County.  "It's been a long road getting to this point and we were thrilled to see so many people get involved."
One such person was self-advocate Connor Long.  He shared his story with lawmakers saying, "We don't need sympathy and pity; we need respect and opportunity."  The new law shifts policy to ensure that every person with a disability has an opportunity to obtain employment.
The bill signing was attended by many of those stakeholders, including self-advocates who testified at various hearings for the bill.  If you have any questions about SB16-077 or would like to learn more about the legislative process, please contact Cari Brown, Systems Advocacy Specialist for The Arc of Larimer County at cbrown@arclc.org.
To read the joint press release from Autism Speaks and The Arc of Colorado, please
click here
.