Governor makes stop in Fort Collins to Sign Bill to Increase Employment of People with Disabilities
Posted May 18th, 2018
Governor Hickenlooper made a stop on May 18th in Fort Collins to sign a bill to increase employment outcomes for people with disabilities. The bill, SB18-145, sponsored by Senator John Kefalas (SD14) and Rep. Joann Ginal (HD53) removes a few systems barriers to employment and sets minimum training standards for job coaches supporting people with disabilities in seeking or maintaining employment.
The bill signing was hosted by Columbine Health Systems, a business who hires a diverse workforce, including people with intellectual and developmental disabilities (I/DD). Yvonne Myers, Columbine Health Systems Director, said, "For us, hiring people with intellectual and developmental disabilities isn't about charity – it's about good business sense. Our employees with intellectual and developmental disabilities have the same attendance rates, have job coaches as needed to support them in their daily tasks, and have average lower turn-over rates than employees without disabilities."
Senator John Kefalas said that job coaches are a key piece of SB18-145. "For some people with a disability, a job coach is the support they need to find or maintain employment. This bill works to ensure that job coaches are using best practices by providing job coaches with vital training."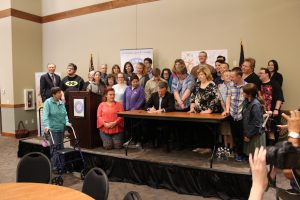 About 140 people attended the signing, many of them students with disabilities from the Poudre School District and advocates for people with disabilities. Marilee Boylan, Executive Director of The Arc of Larimer County, an advocacy organization for people with I/DD, said, "We believe SB18-145 sends a clear message: that everyone with a disability, no matter how significant, can work in the community. We firmly believe that this training will make sure people with disabilities have the right support to find well-matched jobs, businesses will have the right resources to hire people with disabilities, and that public funds are being used effectively."
Boylan pointed out that while Fort Collins has about a 2.5% unemployment rate, about 85% of adults with intellectual and developmental disabilities are not working.
The training requirement will be phased in over the course of 5 years after The Department of Health Care Policy and Financing and The Division of Vocational Rehabilitation complete the rulemaking process. Any employer seeking to hire people with disabilities can contact the Fort Collins Office of the Division of Vocational Rehabilitation at 970-223-9823.