The Arc of Larimer County Pushes for ADA Compliant Bus Stops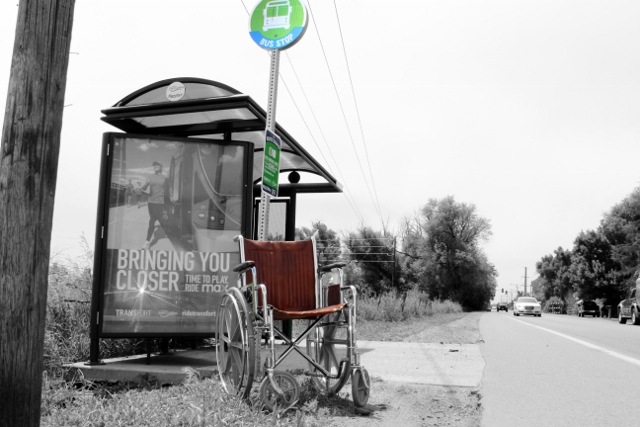 July 8, 2015
Last night The Arc of Larimer County was proud to gather with other advocates at City Hall to ask Fort Collins City Council Members for additional funding to bring bus stops in the city into compliance with The American's with Disabilities Act (ADA) standards.  
Currently, there are about 500 bus stops in Fort Collins.  According to the Transfort Bus Stop Design Standards and Guidelines, about 35% of those bus stops in Fort Collins meet ADA standards.  This means that people who use a mobility device to travel may struggle to access upwards of 65% of bus stops in the city.  
As Nancy Jackson, Executive Director of Disabled Resource Services, mentioned in her comments, increasing access to bus stops has been discussed for over 30 years.  As 2015 marks the 25th anniversary of the Americans with Disabilities Act, The Arc of Larimer County feels that it's finally time to address the issue.
However, the process of creating bus stops that are compliant with ADA standards can be pretty complex.  While some bus stops only require small upgrades, such as moving a bench, others may need massive renovations, such as new sidewalks. 
Transfort, in the Transfort Capital Improvement Plan, has allocated funding to update an estimated 20 bus stops per year.  About $100,000 per year for the bus stop updates will come from the 10-year 0.25% sales tax for Capital Projects.  The rest of the funding is expected to come from Lamar Advertising Company.  The Arc of Larimer County is grateful for the attention Transfort has shined on accessibility.  However, it's important to note that at 20 stops per year, it will take over 18 years to update the estimated 330 non-compliant bus stops in the city.
As a result, last night The Arc of Larimer County encouraged Fort Collins City Council to provide more funding to ensure that instead an average of 40 bus stops per year are updated.  As Marilee Boylan, Executive Director of The Arc of Larimer County explains, "People with disabilities should not have to wait almost 20 more years to gain basic access to their community."  
After public comments concluded last night, City Council members asked Transfort to arrange for a work session to gather more input about accessibility and bus stops.  The Arc of Larimer County continues to encourage citizens of Fort Collins to contact City Council members to say that they want additional funding to be provided so that accessible bus stops can be made a higher priority.