URGENT ACTION ALERT – Health Care is Under Attack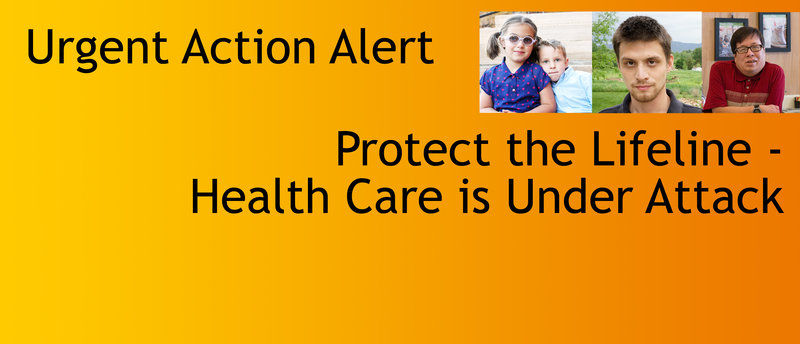 UPDATE (3/8/17): The Arc released the following statement on the draft legislation that repeals the Affordable Care Act (ACA) and pays for it by decimating Medicaid, a program critical to the lives of people with intellectual and developmental disabilities:"This legislation ends Medicaid as we know it. If it is enacted, Medicaid will no longer be a state and federal partnership – the federal government will cap what it provides, leaving the states to pick up the pieces. It will have a dire impact on the lives of people with intellectual and developmental disabilities who rely on Medicaid and the Affordable Care Act for their health care, community supports, and as a way to live independently in their communities.
Click here to read the full statement from Peter Berns, CEO of The Arc
Background:

The Affordable Care Act (ACA) is the most significant law for people with disabilities since the Americans with Disabilities Act (ADA). The ACA has unquestionably improved access to care for people with disabilities. Because of the ACA:
Health insurers can't deny health insurance if you have a disability or chronic condition.

There aren't dollar caps to limit how much health care you can get in a year or in your lifetime.

More people with disabilities

receive supports and live in the community, not institutions.

For additional information, here is The Arc's 

most recent fact sheet about the ACA

.
Medicaid is a jointly funded program with matching state and federal funds. The current administration is planning to replace the current funding system with block grants or per capita caps. Inevitably this will lead to cuts in funding which could:

Create longer waiting lists for home and community-based services and supports

Cut other critical services such as personal care, prescription drugs, and rehabilitative services. If funds become more scarce, states may decide to stop providing these services altogether.

Shift the costs to individuals or family members to make up for the federal cuts as the costs of providing health care and long term services and supports do not simply "go away."

For additional information, here is The Arc's most recent fact sheet about Medicaid Block Grants and Per Capita Caps
People's health, services, and lives are at stake!  We need you to call lawmakers to let them know why the ACA and Medicaid are essential to people with disabilities and their families.
What you could say:
1 – Do NOT repeal the ACA without a replacement that maintains or improves coverage and protections.
2 – Do NOT allow restructuring and cuts to Medicaid to be part of an ACA replacement.
3 – The ACA and Medicaid helps people with disabilities to have health care and community based services.
4 – Thank you for the opportunity to provide public input
Please Call:
Senator Cory Gardner– (202) 224-5941/ (303) 391-5777
Senator Michael Bennet –  (303) 455-7600 / (202) 224-5852
Rep. Jared Polis – (202) 225-2161 / (303) 484-9596
Governor Hickenlooper – 303-866-2471
*Please call first.  If voicemails are full, use online contact forms*
Have more questions?
Contact Cari Brown
Systems Advocacy Specialist
The Arc of Larimer County
cbrown@arclc.org
Please share this Action Alert – we need as many people to call as possible to protect our lifeline and access to health care!