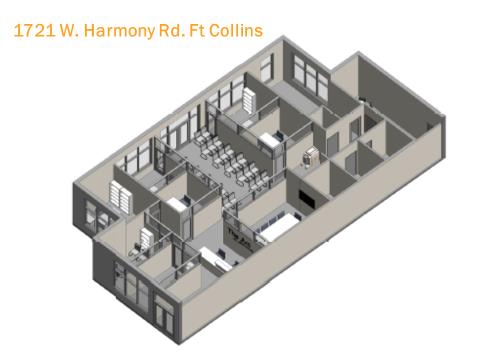 Updated April 21, 2016
In 2015, The Arc of Larimer County held 15 free workshops, provided over 1,496 free individuals advocacy hours, asked The City of Fort Collins to make ADA compliant bus stops a fiscal priority, coordinated with local medical providers to reduce the incidence of FASDs, and worked with state legislators to pass laws that promote the inclusion of individuals with intellectual and developmental disabilities; and that's just a quick snapshot.  Our staff of five also added two more team members, which means our office on Prospect Road no longer fit our current and ever-growing needs.
In late 2015, we purchased commercial space on Harmony Road in Fort Collins.  The new space will be more centrally located on Colorado's Front Range, have offices for all our current and future staff, a workshop space, a lending closet for families, a patio for individual advocacy meetings, and an conference room.
What we're most excited about, however, is the childcare room.  Parents reported to us that they frequently struggled to attend workshops because they couldn't find childcare – and we listened.  Having the childcare room in the new building will allow us to offer free childcare to parents attending workshops.
Our new address will be 1721 W. Harmony Road, Unit 101, Fort Collins, CO 80526.
We would like to thank the hard work of donors and board members who made this new space a reality.  If you haven't had a chance yet to make your contribution to our new space, there is still time.  You can fill out the enclosed donation form or visit www.arclc.org and click on "donate."
Please stay tuned for an invitation to an open house once we're settled in our new space.  If you'd like to get information about sponsorship opportunities in the new building, please contact Elena McKenzie at emckenzie@arclc.org.